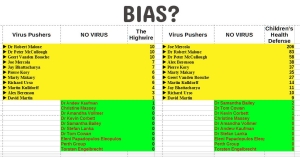 Why are Del Bigtree of the Highwire and RFK Jr of Children's Health Defense half truthers and virus pushers leading the Health Freedom Movement?
Controlled opposition are always carefully placed!
The HighWire presents itself as a voice of dissent or as an alternative to mainstream media outlets. However, this is completely disingenuous, as The HighWire itself is funded by wealthy donors and operates within a larger network of like-minded individuals and organizations. It's becoming clear who is  behind The HighWire and what their motivations actually are.
Hits: 3
0
0
Preskit
https://delbigtreeexposed.com/wp-content/uploads/2023/04/thw-logo-LIAR-3-300x53.webp
Preskit
2023-04-21 11:17:55
2023-04-21 11:17:55
Bias Virus-Pushers